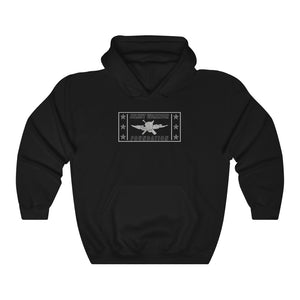 Silent Warrior Foundation Unisex Hoodie
HISTORY AND MEANING OF THE RECON JACK:

The Marines Amphibious Reconnaissance School in Coronado is the first step to putting the amphibian into Amphibious Reconnaissance Marines. Their unit insignia is a Marines Ka-bar fighting knife and Inflatable boat paddle in front of Marine Gold Jump wings and behind a Roger's skull.

The MAGTF commander also has a platoon of Recon Marines to focus on the MAGTF (Force) area of interest. They are normally the ones tasked with the "special operations" missions which draw the imagination of Recon hopefuls. They also retain their mission of general reconnaissance support to the force commander. This platoon is commonly referred to as the "Force" recon platoon as their parent command is the Marine Expeditionary Force. Their Skull art "Recon Jack", shows how they utilize small boat handling (the paddle again), Closed and Open Circuit SCUBA (the frogman), Airborne insertion (Gold Jump Wings) and CQB training (ka-bar).

Crafted for comfort, this lighter weight sweatshirt is perfect for relaxing. Once put on, it will be impossible to take off.

.: Classic fit

.: 50% Cotton; 50% Polyester (fibre content may vary for different colors)

.: Medium fabric (8.0 oz/yd² (271.25 g/m²))

.: Sewn in label

.: Runs true to size

| | S | M | L | XL | 2XL | 3XL |
| --- | --- | --- | --- | --- | --- | --- |
| Length, in | 27.17 | 27.96 | 29.14 | 29.93 | 31.11 | 31.89 |
| Width, in | 20.08 | 22.05 | 24.02 | 25.99 | 28 | 29.93 |
| Sleeve length from CB, in | 33 | 34.02 | 35 | 35.99 | 37.01 | 38 |
---
We Also Recommend